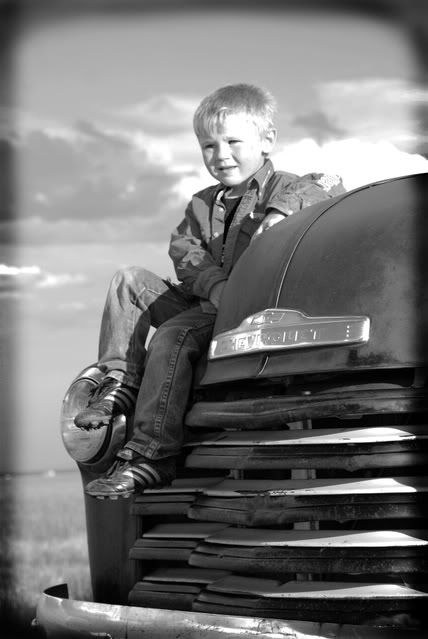 My lineman has had this old Chevy longer than I can remember. I love the old thing. He paid $100 for the old '49 truck at an auction up in northeastern Montana a few years before we were married. I have so many memories of that truck. Mostly trying to move it from place to place.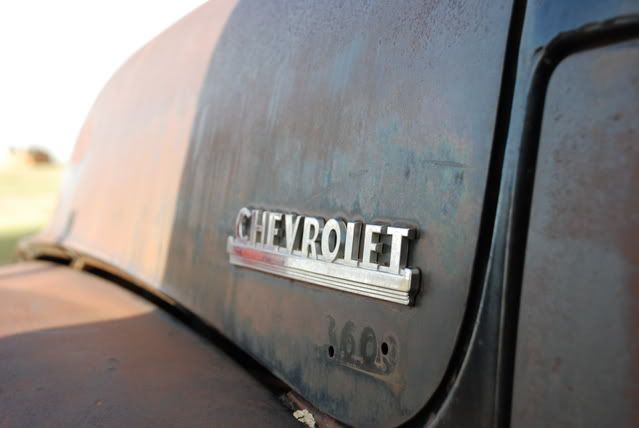 Years ago we needed to move the ol' gal to his uncle's farm and my lineman says to me "You drive the truck and pull me in the old '49". Oh, great. Hey, I don't mind helping out where I can but his uncle's farm I would be towing him to was 5 miles away. Not usually a big deal but there were some good hills from our place to his. Not a very big deal either..... except..... the ol' gal does NOT have brakes! "Don't worry" he says, "I'll give you hand signals and you just look back at me and you'll know what to do. And hey, don't worry Carin". Oh, this isn't going to be good.
Off we go on the dirt roads and it was going pretty good. Then we start going down a hill. I look in my mirror at him and he waves his hand from atop his nice 5-gallon bucket for a seat. I slow down. He waves again. So I speed up. Then he starts waving again like he's mad at me or something. I slow down again. And we are just getting jerked around something horrible. Then he
really
starts waving his hands at me. Hey, I usually do good at this kind of stuff. Why is he so mad anyway??? I gently speed up to get the trucks to work together and then he just goes wild with his arms! GOOD GRIEF. What does he want from me. Finally we get to the bottom and around a section corner and I have had enough of his non-verbal argument with me. I stop the truck and he gets his truck stopped. He comes flying out of that ol' '49 faster than I've seen him move.....
Turns out there were some bees in that ol truck that didn't want to go for a ride that day.