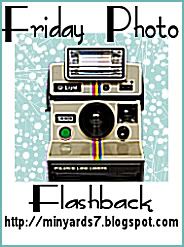 Several photos to flashback to today……
This is my brother and I again, maybe around 1977? What did I tell you about costumes back then. You used what you had. From now on that's what we're doing around here!
Here is my mom and I. Sorry you can't see me too well but I have the blue hardhat on, suspenders, linebelt and line gafs on. Wow, I went as a "lineman", very original, no? Well, I used what I had. I'm dancing with my mom who is wearing an apron with a tin mug and spoon tied around her. She went around clanging that dang mug and spoon and calling that chuck was ready… she went as "Camp Cook", appropriate for a Bed and Breakfast owner.
Okay, here is my oldest son on his first Halloween. He is named after a mountain man so that's what he went as. I made the outfit but it took THREE times, yes THREE times to get that blasted fringe on the outside. Then the little turkey tried to eat the fringe.
See more flashbacks by clicking on the button at the top of the post.