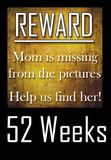 We've had the Geo Trax in a box for almost a year now. The kids saw the boxes and it was go time for mom. Time for me to set it all up that is. Geo is a fun train set, just as much fun for adults really, I have a blast designing the layouts. Little Man loves it and has yet to wreck the track. I cherish these times he sits in my lap as I know how fast they grow. Fun times to remember.
********************52 Weeks********************
52 Weeks is a year long challenge for YOU to be in a picture once a week for 52 weeks. We are always the ones behind the camera, this is YOUR chance to get out in front and be in the pictures with our family. We are glad you are joining this challenge. More importantly your family will really enjoy having you in the picture. Thanks for playing along! Oh, you can just jump in now with 1 of 52, you're not getting off that easy! Now go take a picture!