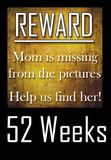 I've been pretty under the weather so I'm using a pic from 2 weeks ago. My mom and I love to golf when we get together. This pic was taken inside the golf cart on a cool bridge. What a blast we had. The leaves were turning, the course was wonderful and the company superb.
********************52 Weeks********************
52 Weeks is a year long challenge for YOU to be in a picture once a week for 52 weeks. We are always the ones behind the camera, this is YOUR chance to get out in front and be in the pictures with our family. We are glad you are joining this challenge. More importantly your family will really enjoy having you in the picture. Thanks for playing along! Oh, you can just jump in now with 1 of 52, you're not getting off that easy! Now go take a picture!
**************************************