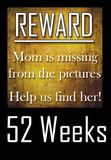 We made it!!!! 52 weeks, what an accomplishment! This picture here is the one I used for our Christmas card. I think I'm still in shock everyone is looking at the camera, smiling and looking good.
On the card it says "Have your self a merry little Christmas".... please do!
And YES! In some form I will continue with 52 Weeks, with a slight variation. So many have started out just recently and what an accomplishment to make it to 52 of 52! You can do it! It's so important for your family memories!

********************52 Weeks********************
52 Weeks is a year long challenge for YOU to be in a picture once a week for 52 weeks. We are always the ones behind the camera, this is YOUR chance to get out in front and be in the pictures with our family. We are glad you are joining this challenge. More importantly your family will really enjoy having you in the picture. Thanks for playing along! Oh, you can just jump in now with 1 of 52, you're not getting off that easy! Now go take a picture!
I debated on wether or not to put up the Linky but I'm going to go ahead and put it up. I'm pretty sure I won't make all of the rounds today, but perhaps within a couple of days when it slows down a bit. Have a wonderful Christmas!