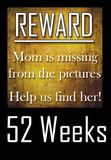 Sigh…. This man sure knows how to make me happy, how to make me smile. He was in the middle of a room remodel when I asked him to come take some pictures. And he did! Mind you he's not a fan of getting his picture taken but he is a fan of making me happy and he knew that would do the trick. Thank you honey for a few pictures!
And wow, week 49….. how did I (and you too) get this far? Amazing!
Any ideas how I should handle the new year with some still just starting out? Maybe after 52 I could have a different button and have two running? I'm sure open to suggestions here.
********************52 Weeks********************
52 Weeks is a year long challenge for YOU to be in a picture once a week for 52 weeks. We are always the ones behind the camera, this is YOUR chance to get out in front and be in the pictures with our family. We are glad you are joining this challenge. More importantly your family will really enjoy having you in the picture. Thanks for playing along! Oh, you can just jump in now with 1 of 52, you're not getting off that easy! Now go take a picture!