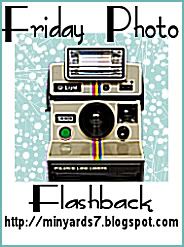 I have no idea how old I am here, maybe 5? My folks had me on skis at age 2 and riding the lift at 3. I guess you could say it was in my blood early. I have so many great memories. Though I haven't been skiing in 9 years now. Bummer.
Hey check out those awesome skis and bindings. You know those bindings! The ones that were attached to our legs so we wouldn't lose them. The ones that were attached to our legs so when we crashed they flailed around us threatening concussion the whole way. Man I miss those bindings.
A few memories that stand out are tree skiing with my big brother, oh SO much fun. I can picture being with him and doing my best to follow, it's still just as clear as day.
Another was when I was very young I sat down into the chair lift but it was really bumpy as it got going. It bumped and jumped so hard it threw me right out of the chair. My mom grabbed my arm at the last minute. So there we are, she's hanging on for dear life to her little girl and I'm just dangling there. They stop the lift before our chair makes it to the first pole. I don't know how high we were but they were yelling at my mom to drop me. She's yelling back Noooooo! Finally I guess she dropped me and I landed on my head. I kid! I kid! I was just fine.
See more Flashbacks or join the fun by clicking on the Friday Photo Flashback button at the top.