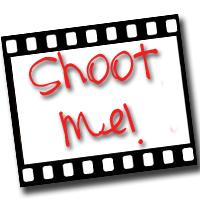 Luckily we have outdoor ice very, very close to our house. As in so close I can just about toss a kid out the window and they'd land on the rink. It's great for a quick pick up game of hockey or just having fun.
And check this out... Maxine, over at Our Space the J's put together the most incredible book from all of her 52 Weeks pictures from 2009. Please go check it out here and see how wonderful it is! She put it to music and it's seriously enough to make you cry. I had no idea when I started this meme that it would touch so many. The book she created I know will be treasured for generations. So keep up with this great challenge, you and your family will be glad you did!
Shoot Me! Post a picture of YOU (yes YOU) with a child, spouse, friend or even by yourself every Thursday. You'll be glad you did!
A LITTLE INFO:
Shoot Me! is every Thursday. I may post late Wednesday for those in earlier time zones.

Please have the Shoot Me! button (or 52 Weeks button) in your post. You can find the Html code on my sidebar.

Please don't link up to MckLinky if you aren't participating. Thank you

.

If you're not sure how MckLinky works, leave a comment and I'll get back to you ASAP.