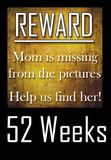 The two oldest boys started Hockey this week. To say they were excited was an understatement. We have an awesome rink and hockey program here. The parents are completely involved and great people. This is our first year and I am totally excited for it! This picture is after their second hockey practice, after a quick bite to eat on the run, after a stop at the grocery store, after the drive home. This could be the normal routine for the next few months but I am seriously excited about the season ahead!
********************52 Weeks********************
52 Weeks is a year long challenge for YOU to be in a picture once a week for 52 weeks. We are always the ones behind the camera, this is YOUR chance to get out in front and be in the pictures with our family. We are glad you are joining this challenge. More importantly your family will really enjoy having you in the picture. Thanks for playing along! Oh, you can just jump in now with 1 of 52, you're not getting off that easy! Now go take a picture!