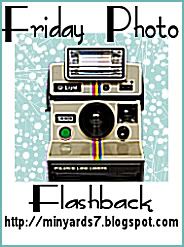 Our wedding anniversary is in one week, what a perfect way to remember with a flashback to 16 years ago.
Walking in the door to my moms house after driving from NE Montana to the Bitterroot Valley in Western MT where my mom lived.
Typical us!
The rehearsal. This is inside an old restored one room schoolhouse! That's Lineman's uncle Randy, AKA Farmer, who was the best man. My brother in the back was filling in for the Justice of the Peace and my grandma is on the right filling in for my maid of honor.
Just a little pic from the actual wedding day. Getting ready with my friend, Willow, who was my maid of honor. Doing the happy dance.
Wedding pics coming next Friday!