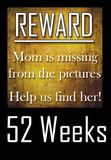 It was all last minute for these pics, but we made it fun anway!
Turns out that my middle boy here is sick. These were taken Wednesday night and by the time I was getting this post ready.... this poor guy got sick. Hopefully we'll be seeing his funny, happy, crazy face again shortly.
********************52 Weeks********************
52 Weeks is a year long challenge for YOU to be in a picture once a week for 52 weeks. We are always the ones behind the camera, this is YOUR chance to get out in front and be in the pictures with our family. We are glad you are joining this challenge. More importantly your family will really enjoy having you in the picture. Thanks for playing along! Oh, you can just jump in now with 1 of 52, you're not getting off that easy! Now go take a picture!
**************************************