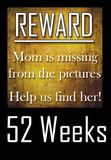 This is with my oldest son for his "Young Authors Tea" at school this week. Obviously his young author book is about dinosaurs. He read his book to me and we enjoyed cookies and apple cider (I guess this was the tea). It was a cute book and a fun time. I felt bad for the kids that didn't have parents attend so I had them read their stories to me while I was there. It was so great to get to see all the kids. I had worked there before my Lil' Man was born. I have missed seeing the kids grow and their smiling faces.
I must add that I was glad I started this 52 Weeks challenge. It was the ONLY reason I am in a picture from this event. Otherwise for simple things like this I would only have a picture of my kids. I'm so glad you are all joining this too!
********************52 Weeks********************
52 Weeks is a year long challenge for YOU to be in a picture once a week for 52 weeks. We are always the ones behind the camera, this is YOUR chance to get out in front and be in the pictures with our family. We are gald you are joining this challenge. More importantly your family will really enjoy having you in the picture. Thanks for playing along! Oh, you can just jump in now with 1 of 52, you're not getting off that easy! Now go take a picture!
**************************************
Please add yourself each week to the Mr. Linky so we can all visit your page too. THANKS!