Drumroll please........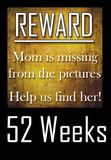 Thank you everyone for voting!
You can now grab my new button on the right hand side of this blog. Just copy and past this code under Layout > Page Elements > Add a Gadget >HTML Code and save it. Thanks everyone for joining along.
.
My fun SIL has two boys that are older than my own kids. When the first boy came she said he sucked half her brain out. Then the second kid came and took the other half of her brain. I TOTALLY can understand that! Seriously!
So, seeing as I have THREE boys I guess that leaves me with a serious deficit upstairs. I forget words, call my children by the wrong name, put cereal in the fridge and milk in the pantry... it goes on. Well, thank you Carrie for pointing out that I could not possibly have Sundays for the day for 52 Weeks. That is my sunset day. If I put the "don't cares" that voted into the "Thursday" votes that makes equal vote. I then am the tie breaker and so...


THURSDAY is the new day for 52 Weeks.


Please, no crying.... I can't handle it right now.
I'll try to have a better Mr. Linky up for Thursday and will repost a few guidelines as well. Right now, just work on...... GETTING IN THE PICTURE!
Sorry I haven't been by your blogs lately, I'll be getting back to that very shortly, promise =)