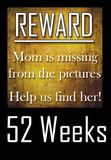 This was taken at my mom's house this weekend. The boy on the right hand side is totally taking after his father. I would
never
be that goofy or silly. Seriously.
If you are just joining us here is the scoop:
So often as a mom we seem to always be behind the lens and rarely in front of it. Our children will look back at pictures when they are grown and we will hardly be in a single photo. If you would like to join in on this year long project I would really enjoy that. But more importantly your family will absolutely love it. Get yourself in the picture every week for 52 Weeks. Be in a picture with one or more or your children. If you are just joining now, feel free to start with #1. You can just finish up this time next year. We will be posting for 52 Weeks every Thursday. Glad you're here!
Link up below! Please link up each week =D