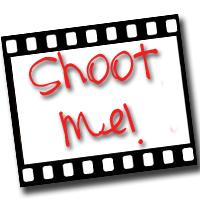 I got a phone call from the school this week that my son was holding his ear and crying. I went into town and picked him up. I called the doctors office but we couldn't get in. So we had this conversation on the way home…
Me: Are you feeling OK?
Son: Yeah, I'm feeling better.
Me: Has your ear been bothering you before today?
Son: No.
Me: So it just started hurting today?
Son: Yeah.
Me: Well, when did it start hurting so bad?
Son: Well, um. Well, I uh. Well, I guess it started hurting when I had my….. uh…. I had my pencil…. uh…. right next to my ear. And then the pencil got jabbed. And then my ear starting hurting.
Me: Sigh….. But you're OK now?
Son: Yup! I think I'm feeling pretty good. I can go back to school now if can take me there.
Me: Yeah, that's not gonna happen.
So we played together outside in the snow. Can you tell what we built together??? It's a "snow"mobile. Pretty cute I thought!
Shoot Me! It's time to stop hiding behind that camera of yours. Your family is missing you in the picture. So it's time to post a picture of YOU (yes, you) every Thursday with your child, your spouse, your friend, your dog, or even by yourself. Just get in the picture, you'll be glad you did! And just jump in now with 1 of 52, you can do it!