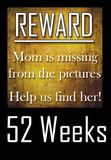 We are smack dab in the middle of moving right now, the computer is unplugged and I'm probably pulling my hair out about now. For those of you that have been following me for awhile we moved in April from Wyoming back to Montana. It's great to be close to family again (close being 3-5 hours away). Well, we couldn't find a house to buy in this sparsely populated country immediately so we have been renting. We finally found a house and yeeee haaaa, we are moving in now! I have been so tired (thus the picture) and I'm hoping a bout of extreme energy has kicked in by now! Needless to say I won't be making the rounds this week =( Hope you understand.
Next week I'll have another 52 weeks post ready (if I get the computer hooked up in time) but again, I won't be home. We are taking off for a planned vacation/reunion. I can't wait to see you all again when I am up and running and settled in our new home =)
********************52 Weeks********************
Weeks is a year long challenge for YOU to be in a picture once a week for 52 weeks. We are always the ones behind the camera, this is YOUR chance to get out in front and be in the pictures with our family. We are glad you are joining this challenge. More importantly your family will really enjoy having you in the picture. Thanks for playing along! Oh, you can just jump in now with 1 of 52, you're not getting off that easy! Now go take a picture!
**************************************