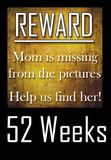 I am visiting my mom again and we made plans ahead of time to see the Billings Mustangs play baseball. Oh so much fun! They had a really good turnout, I'd say close to a sell out. Funny thing was my mom saw two people she knew and I saw a friend too, my sons baseball coach who also works with Lineman. I tell you it's a small world.
We had good seats right past third base and 3rd row up. We were so close to the pitchers warming up it was incredible.
We didn't take in the whole game but we saw as much as you can with a little toddler. It was great fun!
********************52 Weeks********************
Weeks is a year long challenge for YOU to be in a picture once a week for 52 weeks. We are always the ones behind the camera, this is YOUR chance to get out in front and be in the pictures with our family. We are glad you are joining this challenge. More importantly your family will really enjoy having you in the picture. Thanks for playing along! Oh, you can just jump in now with 1 of 52, you're not getting off that easy! Now go take a picture!**************************************