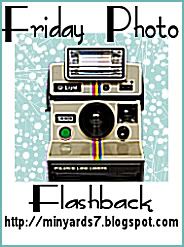 This picture was taken at our home in about '91. My main loves in high school were FFA, animals and sports. I remember taking these three cuties to school in a pillow case. Not sure why I took them to school but I do remember all the kids flocking to me as soon as they saw these cuties.

Here is my mom with one of the little darlings.
You can see more flashbacks by clicking on the Friday Photo Flashback button at the top of this post.