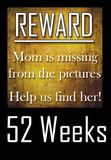 First off, I can't believe week 26 is here! The half way mark! And for those of you that are on 1 or 2 or 15, keep up the good work. For those thinking about it, just jump in NOW with #1!
This family picture was taken on Sunday. I love looking at the the boys in my life!
And this picture, wow, what a surprise and a treat! I got to meet a fellow blogger, Alison. It was so cool to meet her and her family. My middle boy is almost the same age as her middle son. There is more to that story but I'll keep you waiting until Friday for that.
********************52 Weeks********************
Weeks is a year long challenge for YOU to be in a picture once a week for 52 weeks. We are always the ones behind the camera, this is YOUR chance to get out in front and be in the pictures with our family. We are glad you are joining this challenge. More importantly your family will really enjoy having you in the picture. Thanks for playing along! Oh, you can just jump in now with 1 of 52, you're not getting off that easy! Now go take a picture!**************************************