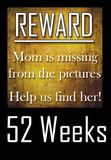 Sorry I didn't get around to many blogs last week. The reason was I was out of town seeing lots and lots of family!

The first leg of my trip I went to my mom's were we had FOUR generations together. This picture here is at the Billings Zoo. Yes, there is a zoo there. It's more like a large park to walk around with a few animals. It is very nice and relaxing, a nice place to take a picnic and just stroll. You will see a frustrated Grizzly, but that's another story.
From there it was off to the in-laws side of the family. I was SO incredibly happy I was able to make it over there! It was for my nieces high school graduation. That's the awesome graduate there in the middle! Way to go!!! When I handed off the camera to someone else I had thought the other parents were going to get in the picture. We are going to have to get them used to "getting in the picture" ! So, I guess I look out of place in this picture with the grandparents, grandchildren, and me. But hey! At least I was in the picture, right?
********************52 Weeks********************
52 Weeks is a year long challenge for YOU to be in a picture once a week for 52 weeks. We are always the ones behind the camera, this is YOUR chance to get out in front and be in the pictures with our family. We are glad you are joining this challenge. More importantly your family will really enjoy having you in the picture. Thanks for playing along! Oh, you can just jump in now with 1 of 52, you're not getting off that easy! Now go take a picture!**************************************