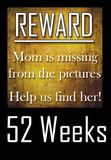 Each week I visit your blogs and admire your self photos. My only self portraits so far have been with the use of my handy dandy remote. No more! (Well, not exactly no more, I do heart my remote.) This week I gave it a try. My middle son and I were hanging out in the truck waiting when I gave the self portrait a try. Can't wait to see all your pictures this week!
********************52 Weeks********************
52 Weeks is a year long challenge for YOU to be in a picture once a week for 52 weeks. We are always the ones behind the camera, this is YOUR chance to get out in front and be in the pictures with our family. We are glad you are joining this challenge. More importantly your family will really enjoy having you in the picture. Thanks for playing along! Oh, you can just jump in now with 1 of 52, you're not getting off that easy! Now go take a picture!
**************************************
Please add yourself each week to the Mr. Linky so we can all visit your page too. THANKS!