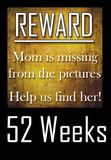 I was getting pretty worried about having a picture for this week. That was until I downloaded my camera and found about 25 pictures of me. We had gone to the park and I got out to hang with the kids. Lineman stayed in the truck because he was feeling pretty sick. Thankfully he wasn't so sick that he couldn't take a few pictures. And I really appreciated it.
********************52 Weeks********************
52 Weeks is a year long challenge for YOU to be in a picture once a week for 52 weeks. We are always the ones behind the camera, this is YOUR chance to get out in front and be in the pictures with our family. We are glad you are joining this challenge. More importantly your family will really enjoy having you in the picture. Thanks for playing along! Oh, you can just jump in now with 1 of 52, you're not getting off that easy! Now go take a picture!**************************************
Please add yourself each week to the Mr. Linky so we can all visit your page too. THANKS!
Also, please do not link up if you are not providing a picture with YOU in it. Thank you.